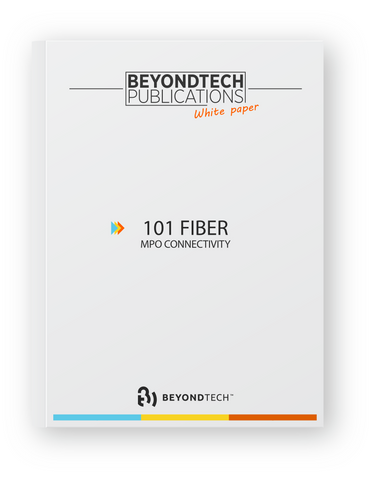 101 Fiber Guide: What are MPO Fiber Patch Cables?
Free Download
101 Fiber Guide: What are MPO Fiber Patch Cables?
As we started our previous OM4 Whitepaper, Bandwidth will never stop increasing.
We needed to explain about the MPO Connector and in this document, we discuss the next topics:
Differences between MTP® or MPO, Advantages and disadvantages.
MPO Polarity
Configurations you need to use
MPO Cable Solutions
Disadvantages of the MPO Connector 
Enjoy! It's free to all our customers and online visitors.

Summary:
MPO Fiber Patch Cables are connectors that comprise multiple optical fibers. It is typically defined as an array connector that has more than 2 fibers, so MPO Connectors are typically available from 8, 12 to 24 fibers for common data center and LAN applications. 
The similar term MTP Connector is also used interchangeably with MPO Connector. This term is a registered trademark of the MPO connector offered by US Conec. The MTP connector is fully compliant with MPO standards and is described by US Conec as an MPO that has been engineered to very tight tolerances for improved performance.
 
You can find more details about this subject in this great ebook we have put up for you!

At Beyondtech, we are constantly creating valuable content for Telecom professionals like you.
You could also visit our blog to read interesting articles about the fascinating world of Fiber Optics.
We really hope you can have a clear and solid idea about this important component in Telecom installations.  

We Are BEYONDTECH
With offices in the United Kingdom, the United States and Spain, Beyondtech has become one of the most reliable providers of Telecom solutions. We design, create and distribute customized and cost-effective solutions with worldwide shipping and fast delivery times.
At Beyondtech, we are constantly innovating: posting Blog posts, publishing ebooks launching new products, so you better stay tuned to our latest updates!
• For additional information please contact your Beyondtech Sales Representative.
• The Information in this document is correct as of February 01, 2021.