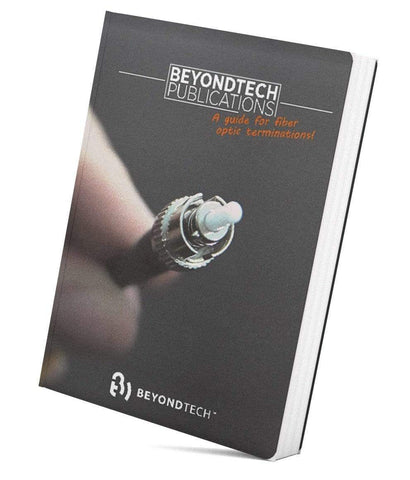 Fiber Guide Advanced: A Guide For Fiber Optic Termination
Free Download
Learn Fiber Optic Termination with Beyondtech Ebooks.
Optical fiber terminations need to be done carefully in order to have low loss and minimal reflectance, therefore constant practice is mandatory to achieve perfection. This E-book is created for optical fiber apprentices eager to exercise and improve their techniques.
Part I details the steps to be followed to do a permanent joint using a mechanical splice.
Part II explains how to do a connectorization.
Part III describes the way polishing needs to be done.
This process might be used with both multimode and single-mode optical fiber and with other connectors besides ST.
Always remember to use safety goggles to avoid optical fiber fragments getting into your eyes. Let's start practicing!
Enjoy! It's free to all our customers and online visitors.
• For additional information please contact your Beyondtech Sales Representative.
• The Information in this document is correct as of February 01, 2021.